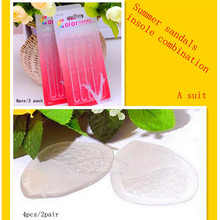 Overview
Patients and doctors often confuse the terms heel spur and plantar fasciitis. While these two diagnoses are related, they are not the same. Plantar fasciitis refers to the inflammation of the plantar fascia--the tissue that forms the arch of the foot. A heel spur is a hook of bone that can form on the heel bone (calcaneus) and is associated with plantar fasciitis. About 70 percent of patients with plantar fasciitis have a heel spur that can be seen on an X-ray. However, many patients without symptoms of pain can have a heel spur. The exact relationship between plantar fasciitis and heel spurs is not entirely understood.
Causes
Heel spurs can form as a result of repeated strain placed on foot muscles and ligaments as well as from abnormally stretching the band of tissue connecting the heel and ball of the foot. Repeated injury to the membrane that lines the heel bone can also cause problems as can repeated tight pressure on the back of the heel. The causes can range from excessive walking (especially if unaccustomed to walking), running or jumping to improperly fitted or worn-out shoes. Runners, volleyball players, and tennis players, people who do step aerobics or stair climbing for exercise, those with flat feet, pregnant women, the obese and diabetics and those who wear tight-fitting shoes with a high heel are all prone to developing spurs (and plantar fasciitis) more readily.
Symptoms
Heel spurs may or may not cause symptoms. Symptoms are usually related to the plantar fasciitis. You may experience significant pain. Your heel pain may be worse in the morning when you first wake up or during certain activities.
Diagnosis
Your doctor will discuss your medical history and will examine your foot and heel for any deformities and inflammation (swelling, redness, heat, pain). He/she will analyze your flexibility, stability, and gait (the way you walk). Occasionally an x-ray or blood tests (to rule out diseases or infections) may be requested.
Non Surgical Treatment
Ice and use arch support . If you can localize the spur, cut a hole in a pad of felt and lay the hole over the spur. This supports the area around the spur and reduces pressure on it. Massage the spur. Start gently with your thumb and gradually increase the pressure until you?re pushing hard directly on the spur with your knuckle or another firm object. Even it if hurts, it should help. Arch support. Build up an arch support system in your shoes. Try to equalize the pressure of your body weight throughout your arch and away from the plantar area. Use a ?cobra pad? or other device that supports the arch but releases pressure on the painful area. If homemade supports do not work, see a podiatrist about custom orthotics.
Surgical Treatment
Almost 90% of the people suffering from heel spur get better with nonsurgical treatments. However, if the conservative treatments do not help you and you still have pain even after 9 to 12 months, your doctor may advise surgery for treating heel spur. The surgery helps in reducing the pain and improving your mobility. Some of the surgical techniques used by doctors are release of the plantar fascia. Removal of a spur. Before the surgery, the doctor will go for some pre-surgical tests and exams. After the operation, you will need to follow some specific recommendations which may include elevation of the foot, waiting time only after which you can put weight on the foot etc.
Prevention
Use orthotic inserts. You can purchase orthotics over the counter, or you can have orthotics specially fitted by your podiatrist. Try 1 of these options. Heel cups. These inserts will help to align the bones in your foot and to cushion your heel. Check your skin for blisters when you first start using heel cups. Also, your feet may sweat more with a heel cup, so change your socks and shoes often. Insoles. While you can pick up generic insoles at a drugstore, you may have more luck if you go to a store that sells athletic shoes. Push on the arch to make sure that it doesn't collapse. If your insoles help but could use a little work, you can take them to a podiatrist to get them customized. Custom orthotics. A podiatrist can make a cast of your foot and provide you with custom-made orthotics. These may be more expensive, but they are made of materials specifically designed for your needs, and they can last up to 5 years if your podiatrist refurbishes them every 1 or 2 years. To find a podiatrist near you, look at the Web page for the American Academy of Podiatric Sports Medicine. Dynamic Insoles. Lack of elasticity in plantar fascia in the foot is for most people the real problem. If there is poor elasticity in the lengthwise tendons in the foot (plantar fascia) in relation to a person's general condition, only a small additional strain is required for the pull on the tendons to cause damage to the tissues connecting the tendons to the heel bone. This will generate an inflamed condition called Plantar Fasciitis.